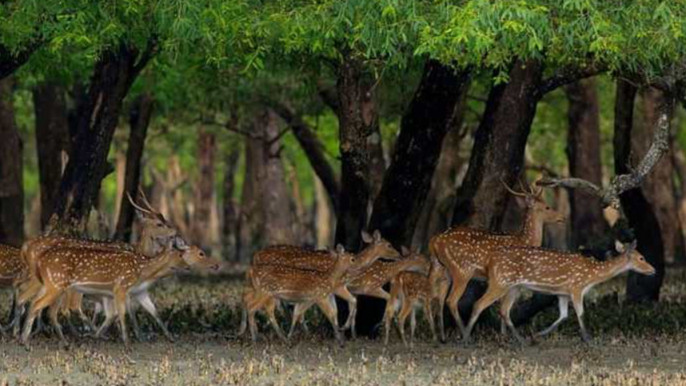 About Sundarbans
Sundarbans is a collection of lowland islands in the Bay of Bengal, spread across India and Bangladesh, and is famous for its unique mangrove forests. This active delta region is one of the largest in the world, covering an area of ​​approximately 40,000 square kilometers.
The Sundarbans forest covers approximately 10,000 square kilometers across India and Bangladesh, 40% of which is in India, and is a rare global threat to crocodile (Crocodilus porosus) and royal Bengal tiger (Panthera tigris). Many wildlife inhabit. Water monitor (Varanus salvator), Ganges dolphin (Platinista gangetica), Olive ridley turtle (Lepidochelys olivacea). India's forests are divided into Sundalvan Steiger Reserve and 24 Pargana (South) Forest Division, and together with Bangladesh's forests, it is the only mangrove forest in the world where tigers can be seen.
India's Sundalvans Delta has been a priority region of WWF-India since 1973 due to its unique biodiversity. While supporting a significant number of wild tigers and other wildlife, it is also an ecologically and climatically vulnerable area with more than 4.5 million inhabitants. To secure the future of Sundarban, its biodiversity and people, along with short-term interventions such as ensuring sustainable livelihoods, access to clean and sustainable energy, and effective human wildlife conflict management. Need a long-term vision that can integrate climate adaptation and conservation strategies.
WWF-India's vision for this landscape is to develop a climate-resistant Sundalban that supports biodiversity, ecosystem services and sustainable development.
WWF in Sundarbans-History of India
1973: Joined Sundarbans since the start of Project Tiger. In 1974, he assisted the Sundarbans Forest Department with the first calming of stray tigers.
1976: Conducted environmental education activities through initiatives such as the Nature Club in India. We supported the Forest Department with equipment and training to reduce our dependence on forest resources and community involvement.
2007: Established a dedicated Sundarbans program to address biodiversity conservation and climate change issues. The landscape strategy focused on three thematic areas: biodiversity conservation, climate change adaptation, and energy access.
コメント
ピックアップ記事
About Sundarbans Sundarbans is a collection…

さて、もうすぐハロウィン。日本ではタダのコスプレイベントとなってきておりますが、本来のハロウィンは毎…

「この列車はチョコレートとチーズのツアーにあなたを連れて行く」なんてツアーがあったら、思わず飛びつい…
アーカイブ